May is National High Blood Pressure Awareness Month! High blood pressure can cause a variety of health problems. Almost 108 million people in the United States have high blood pressure. C & A Scientific is here to let you know about some associated risks and how you can manage the symptoms of high blood pressure.
Analyzing your Blood Pressure
Blood pressure is measured in millimeters of mercury. Two numbers are recorded in the measurement of blood pressure. The number at the top of the recording is systolic blood pressure. This number represents your blood's force as it courses through arteries. The bottom number is diastolic blood pressure. This bottom number represents the pressure that remains in blood vessels between beats. This measurement can show how much blood your heart can pump and how much resistance to blood flow occurs in the arteries. Blood pressure is considered high if over 130/80 mm Hg.
Types of High Blood Pressure 
There are two types of high blood pressure: Primary hypertension and secondary hypertension. Primary hypertension is high blood pressure that derives primarily from hereditary or lifestyle factors. In contrast, secondary hypertension results from an underlying condition, i.e., endocrine or kidney problems. Secondary hypertension is also typically exemplified by specific physical symptoms, including obstructive sleep apnea, pheochromocytoma, Cushing's syndrome, and thyroid problems. Whether you have primary or secondary high blood pressure can be determined by laboratory abnormalities in a blood test. You may have secondary hypertension if you suffer from low potassium or high calcium. Secondary hypertension is also considered when individuals under thirty suffer from extremely high blood pressure with no family history or preexisting lifestyle factors.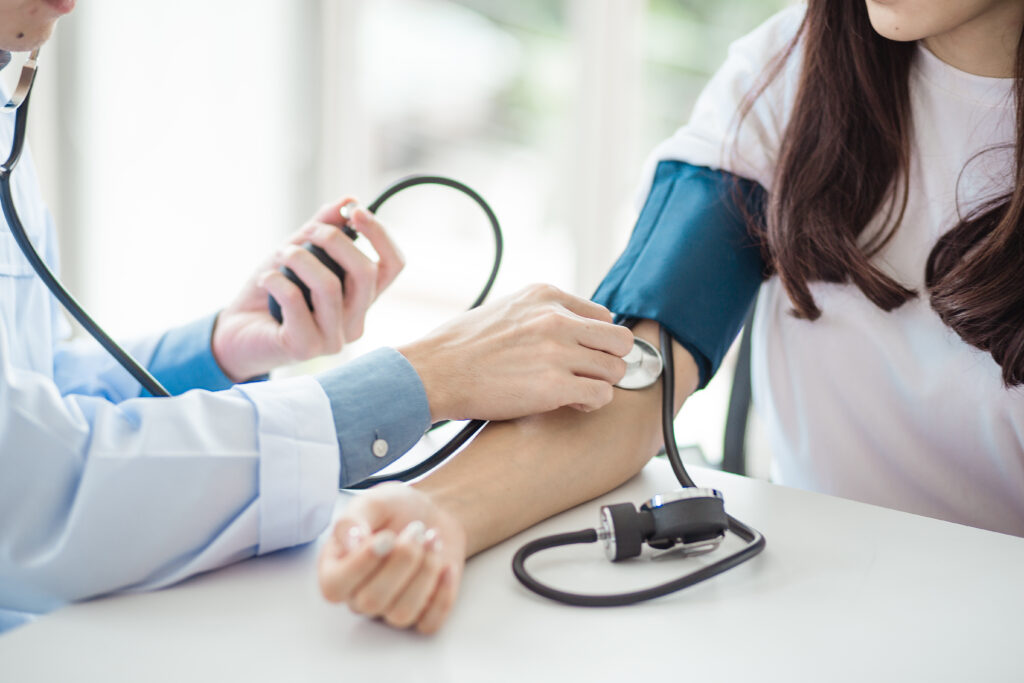 Risks of High Blood Pressure       
High blood pressure carries a variety of risks for the body. It creates continual stress on the body, which damages the circulatory system. This damage can increase the risk of heart failure, stroke, kidney disease, and various types of heart disease. Regarding long-term impact, high blood pressure can impact the risk of dementia, trouble with memory, and the potential for developing metabolic syndromes. Hypertension may not show symptoms immediately, but the damage it does over time has made it known as the 'silent killer.' Ongoing research has also shown that high blood pressure may negatively contribute to hereditary conditions like Alzheimer's and dementia.
Lowering Blood Pressure
There are various ways to lower your blood pressure over time if you suffer from primary hypertension due to lifestyle factors. Aerobic exercise, like walking, biking, or swimming, is one great way to lower blood pressure. Another suitable means of lowering blood pressure is limiting the amount of food you consume high in saturated fats and sodium and adding healthy foods like fruits and vegetables. Quitting drinking and smoking and minimizing caffeine intake are excellent ways to improve blood pressure. Adding potassium to your diet can also positively impact blood pressure. Additionally, mitigating stress and anxiety can help with extreme rises in blood pressure. While these are all excellent ways to lower your blood pressure, one of the most effective means for lowering blood pressure is exercising regularly and losing weight.
Treating the underlying cause will lower your blood pressure if you suffer from secondary hypertension. If you suffer from primary hypertension due to hereditary factors, your treatment can include diuretics to reduce water volume and medications that can help relax artery walls. However, you should consider if you are in good health before starting medication that lowers blood pressure. Blood pressure medications include angiotensin-converting enzyme inhibitors, which can cause blood pressure to go too low and potentially cause dizziness and fatigue.
C & A Scientific's Commitment 
C & A is committed to helping healthcare professionals diagnose and treat dangerous conditions. We are proud to provide distributors and individuals with the tools they need to make a difference. We are glad to provide you with the information you need to make informed decisions about your health.
C & A Scientific is a dedicated leader in improving the health and minds of people worldwide. We supply over 700 award-winning medical and STEM-inspired products to distributors and retailers looking for sensational customer service. Learn more about us and our story here.